Two Years In The Making
Michelle and I started this guide to help people just like you, declutter their home and after two years and countless hours or writing and rewriting, we've put together a system to get you organized!
What we have created is a complete guide that takes you from room to room through your home and helps you get organized in as little as 31 days.
In the guide you will learn important steps like how to:
reduce clutter,
become more organized,
and how to make organizing easy!
Now, if you're new here, we should explain what we have done. To help write the book, we created the 31 Days to Declutter website which helped walk people through our declutter process a room at a time.
You Can Start Decluttering Today!
Our guide is set up so you can get organized on your own schedule, or if you have specific rooms you need to address, you can go straight to that chapter! Of course, you can also follow the schedule of the 31 days if you prefer and follow along with us chapter by chapter, room by room.
We have taken everything from the site and broken it all down as a handy reference guide. So not only do you get everything from the site, but we added countless extra tips and techniques to expand upon each step. We included examples and stories of how we turned clutter into nice organized spaces and we set it up so you can complete it at your own pace.
If you want to just work on your craft room, skip directly to that chapter, if you want kitchen organization tips and ideas, start there, it is all up to you. Of course, many people are more interested in simply getting it over with which is why we call our guide: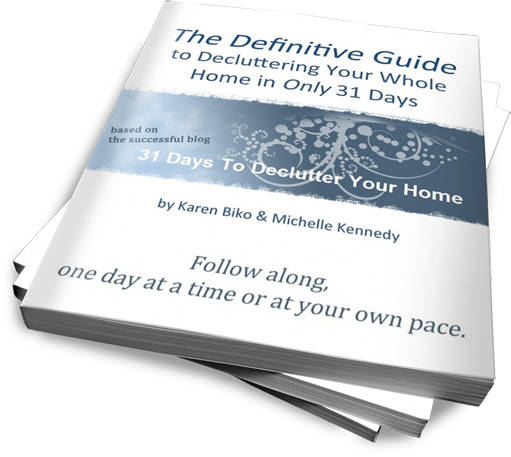 delivered as downloadable PDFs within minutes. Book shown only for graphical purposes

This guide will be a complete resource you will turn back to time after time.
---
Based on Real Life Experiences
Much of this has been based on real life experiences learned from Michelle's work as a Professional Organizer and Karen's work as an Interior Designer. All in clear language that is easy to understand and helps answer many organizing questions you may have.
This straightforward information provides the step by step instructions necessary to make organizing fun and not a chore. We help you every step of the way and show you how to
tackle "nightmare" rooms
get rid of items after the declutter process
and even techniques to help you keep clutter free

Don't waste your time spending hours trying to find all this information elsewhere, it's all right here in an easy to follow format making your life, and the declutter process, so much easier. We've researched everything for you and laid it out in simple steps.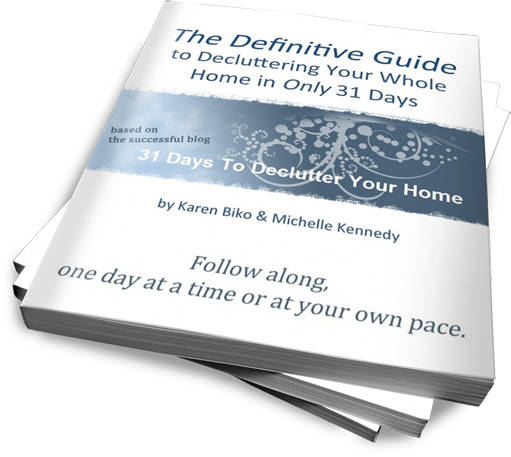 Product delivered as downloadable PDFs. Book shown only for graphical purposes
Organized, To Help Make Organizing Your Home Simple
Our guide is highly organized (which only makes sense considering the topic), is easy to navigate and covers some of these additional topics
Mindset – getting ready to purge
The Rules To Purging
and How to Purge

All allowing you to attack any clutter problem with a plan and a purpose! By helping you start with the proper mindset you can ensure you start the process with a clear goal in mind and without any nagging doubts about reducing clutter.
To further reinforce this, we also have the Rules to Purging that provide rules to follow to keep you moving forward. Finally a strategy for How to Purge will make the entire event easier than you thought possible, no matter how daunting it initially appears.

These proven strategies for getting organized will be a
handy reference for years to come
and will become your
essential reference for organization
. The timeless information will ensure it will be just as valuable next year as it is today.
Order your copy RIGHT NOW!
Simply click the ADD TO CART button below which will immediately take you to PayPal, one of the world's largest online payment companies, where you safely and securely complete the transaction.
Thanks,
Karen & Michelle
---
Order Your Copy Today!
---
---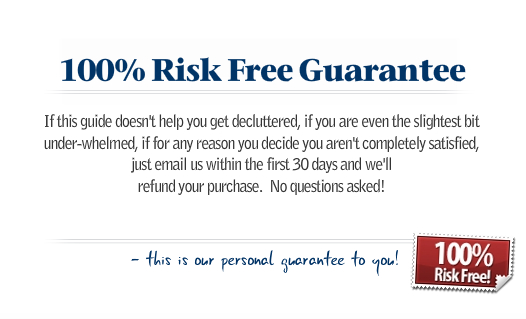 Of course, our product wouldn't be complete without making sure you are happy with it. If for some reason after purchasing it, you determine it's not what you were hoping for, it didn't live up to what it said it was, or you just weren't happy with it, we offer a full 30 day money back guarantee. I'd be lying if we said no questions asked, because we would definitely like to know what we can change if there's a problem for future revisions!
---
Feedback from some of our readers
"As I was reading through the book and saw how simple the steps were, it motivated me to want to start decluttering immediately!
As a busy working mother, I really appreciated how everything was laid out so clearly and it helped me realize I didn't have to feel that sense of overwhelm when it came to getting started. I;m positive anyone following this guide will be clutter free in no time and I will be recommending it to everyone I know."
Brenda Yeomans, Medicine Hat, Canada
"Wow! This book is great for anyone who is trying to simplify their life. It is very detailed, but also simple to follow. The calendar was the most helpful. Having it laid out exactly when to do exactly what was the most helpful It took my husband and I from being overwhelmed with our clutter to feeling in control!"
Andrea M., Eden Paririe, MN
If you found this book helpful to you as well, we would love to hear back from you so we can add your comments here too!
Start Your Declutter Today!
OK, we've told you all about the book, we went over what it covers, how it works and the steps involved to keep you clutter free. Now it's time for you to make a decision. Do you carry on accumulating clutter, wondering of you can ever make some headway with the ever growing chaos of ever increasing stuff. Or do you spend $29.97 on a book packed with steps to help you gain control of clutter, guides you to a path of being more organized and gives you examples and tips to make the entire process easier?
Ultimately the choice is yours, but the sooner you take the plunge and start the process, the quicker you are able to move forward and start following the organized path. Just click on the big yellow button below to order your copy now and you can start reading and acting immediately!