A great little tool that I have used for years is a hand-held label printer.  My husband bought it for me and at the time I thought "what do I need this for?".   But that little machine has been just fantastic.  It's not just any label machine, it has these great labels that even will go through the dishwasher!!  Check out the Brother printers and get the one that uses the plastic laminated tape.  I use it to label boxes, kid's stuff, dishes, all my spice containers.
The model I have is no longer available, but the one that I think it is closest to is the Brother PT 1400.  Now there are some cheaper models, and some more expensive models.  You will need to decide which one will best suit you if you are buying one.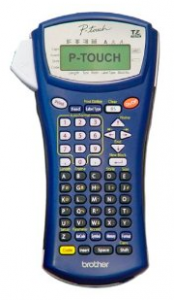 If you are located in the US you can easily check it out on Amazon.   Brother PT-1400 label printer
If you are in Canada  you can also find it at Amazon.  Brother PT-1400 Label printer (Canada)
If you haven't shopped on-line at Amazon  — you've got to try it.  If you are buying, get some of the different labels too.  I have white writing on black, black on white, black on gold, and there are different thicknesses too!!  But make sure you get the laminated ones – they ROCK!