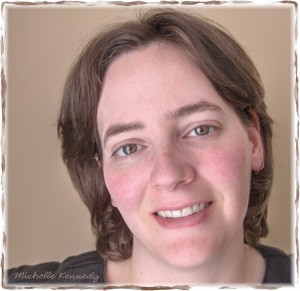 Michelle comes from a long line of task masters and list makers.  From a very young age she began organizing her own art supplies and toys in the 'like with like' fashion.  She found putting things in order made sense to her, and has maintained that attitude throughout her life.
Entering the professional world, Michelle rapidly gained responsibilities in every position she tackled, due to her ability to quickly assess and implement more efficient organizational systems.  Her Grandmother had always said "Only handle it once!" whenever there were things to organize and Michelle has remembered this and strives to implement the idea in more than just her own home.
Michelle began a side business, along with working full-time as an Executive Assistant for an accounting firm, as an organizational consultant.  She wrote articles for the Chestermere Anchor newspaper, and was consulted for an article in the Calgary Sun in January 2004.  In 2006 Michelle created her own company, Kennedy Ink, to assist a myriad of individuals to lead more effective and efficient lives.  From large Oil & Gas firms in downtown Calgary to small home businesses to wee crafting closets, Michelle empowers others to organize themselves and free their time for the more important things in life.  Although there are two branches of Kennedy Ink, the creative side and the professional administrative side, she finds organizing to be at the root of her success in both fields.
As the owner of Kennedy Ink, and a person happy with her ADD, Michelle has many irons in the fire and is constantly challenging her ideas of 'being busy'.  Most days will find her jumping from editing and formatting office templates, creating new art, organizing client's memory items, updating client's websites, teaching PhotoShop Elements, learning more about photography and scheduling more sessions, assisting other start-ups with envisioning their futures, updating the books, researching new ideas, snuggling her puppy dog, contemplating doing more in the garden, being a simply fabulous Wife-Sister-Daughter-Auntie-Friend, and learning music theory for fun.