We've entered the digital age.  People post pictures on Facebook, on blogs, and can stream them through their TVs.  Getting all of your media on the computer not only gets it all in one place, but there are many ways you can keep it all organized.  Many programs are available to help organize photos on the computer.  You can repair old photos, fix red-eye, crop, and adjust your pictures easily.
One of our favorite programs for manipulating pictures is Microsoft Photoshop Elements.  There is quite a bit of training available for this program, and you can easily fix your pictures as well as embellish them.  You can create wonderful 'scrapbook' presentations using fun virtual papers and stickers.
To help with your organizing and your scrapbooking one software package that consistently gets rave reviews is Photoshop Elements by Adobe. For more information or to order your own copy choose your link;
If you are located in the US you can use Amazon.com
If you are in Canada, you can use Amazon.ca
And for transparency sake, we do get a small commission (and we do mean small!) when you purchase any products via these links, but it helps us cover costs and it makes us smile, so if you were planning on purchasing it anyway, why not do it here and now!
On a PC you can go into the properties of a picture file (.jpg format) and add information.  You can add a title, subject, or comments to the picture.  Our example is a class picture.  It's been scanned, converted to jpg, and sorted into the year file it represents.   Entering information into the properties of the picture keeps the information with the picture.  In the example we've entered the child's name, whose class it is, the school and year, and listed the names of all the kids in the picture under comments.  Now it's associated with the picture forever.  If I send this to someone, the information I've attached to it will stay with the picture.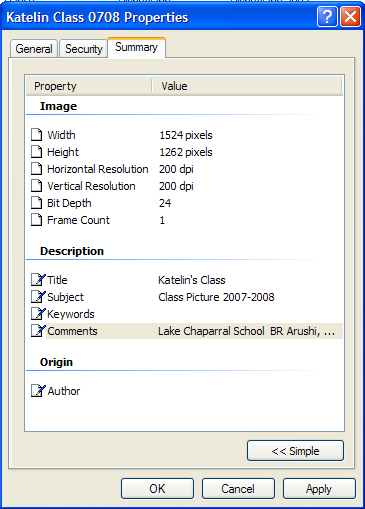 You can take all those old photos that are sitting in boxes and scan them into the computer.  There are services out there that will do this for you.  Make sure to have them scan them at least 150% or 200%.  This means a small 3.5 x 5 photo can be printed out on at 4 x 6 with little loss of quality.  It's a more expensive option, but going through the work and then having a small resolution photo to work with is less than gratifying.
Organizing Tip:  I love to keep all the pictures and crafts that my kids have made…but I know I can't.  So I've started to be more selective.  Some pieces I will keep for scrapbooks, but the bulk of the work that I want to keep I scan in on the computer.  Now they have a record of the artwork, or note that they've written, but it doesn't take up any physical space.  I have a file folder for each of the girls, and I try to date when the work was done. -KB

Also on the rise is the use of software to organize your ancestry.  There are many programs out there to assist you in creating a digital family tree.  Many of these have areas where pictures or documents can be scanned and stored for history.  You can have your family tree out on the web for other family members to add to.  Having pictures in digital format is required.
Recently my husband's parents have passed away.  So I have collected all the photographs they had.  I have books with those sticky pages (which actually distort the colours in the pictures), and hundreds of loose pictures.  Many of these pictures I have no idea who the people are.  So what do I do with them?  Many of them are old black and whites that I feel should be recorded.   –KB
If you find yourself in the same situation, you could scan in pictures and send them off to members of the family, and perhaps someone will know who the people are in the picture.  By entering the information in the properties of the picture you are securing the information.
I had one client who took a box of old pictures to their mother and asked her to write down the names of all the people in each of the pictures.  She did – right on the front of each picture, and very often over the faces. –KB
You can move all those old pictures on to the computer, even old family videos can be converted onto the computer.  Digital scrapbooking is on the rise, and the options are unlimited as to what kind of media presentations you can create using the computer.