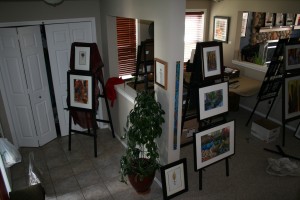 There is nothing like hosting a party to get you to clean up and 'shine' your house for the incoming guests.  I love having parties, I enjoy when friends come by and bring new people with them!  But it's the preparation that gets me motivated.
Not only does my house get a good cleaning (well, the entertaining areas for sure), but I do what I call a 'Shine' to finish it off.  That would be me going through and making sure there are no finger prints on walls, and that every cushion is perfectly in place.  I take a critical eye and look at everything on display.  Are there items that I can put away for a while that will help  the space look less cluttered?
Recently I had an open house where I displayed my gallery of paintings (I'm an artist also).  So to create the gallery, not only did I need to remove many of the paintings that were not for sale, but also much of the knickknacks where I needed to set up easels and paintings.  Putting things away for a while helps give me a new perspective of my home.
Of course there is always the cleanup after the party to contend with…but I do think it's well worth it.