This can be a very tough room for some people (me included).  Some people spend years collecting all sorts of tools and supplies to do a myriad of different projects.  Then nothing happens because life gets in the way of taking the time to sit down and do it.  Studio spaces can easily become a dumping ground for half started projects, and grand ideas.  It is difficult to figure out where to start, but just begin with one surface first…maybe it's the floor.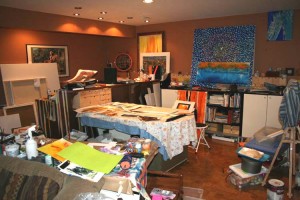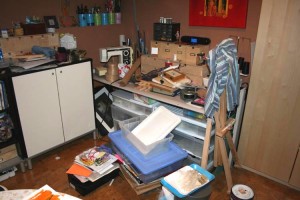 I sit in amongst my collected clutter looking around and not knowing where to start.  The room is a disaster.  I don't even like coming in and painting here anymore.  It is chaos.  But I reach over and pick up a book, and put it where it goes.  Next is a little pile of mat board, too small to do much with so I place them in a little pile to donate to the school.  One thing at a time I look at and decide either where it goes or where it doesn't. –KB
In this room follow the same system you did for the kid's space.  Place like items together.  If you have one certain craft keep all the supplies for that craft together.  Bins work very well for this and you can stack them neatly if you have a lot of different things you work on.
Keep your tools together.  Trying to keep a pair of scissors with each different craft you do can get frustrating when all of a sudden you need scissors for something different and then you are stealing from another craft bin.  Coffee tins work really well for holding things like scissors, rulers, paintbrushes, knitting needles.  Keeping markers in a plastic bin with an air-tight seal will make them last longer.
Work surfaces are for working on so try to keep them from getting cluttered up with things you don't use all the time.  Keeping things put away in bins and on shelves keeps the space uncluttered and ready for you to work on waiting projects.  If your studio space is small and you have lots of stuff, try storing vertically.  Get higher shelving units to store items.
Go through all those projects you've put on yourself to get done and decide which ones you really want to complete.  List them so that you can schedule when you will get working on them.  There is no use keep them hanging around if they never get done.
Good Luck!!