So how did your decluttering go yesterday??  I've heard from a couple of you who got down to work and made some progress.  For me I initially made a bigger mess and then it all became clear as stuff moved to their appropriate places.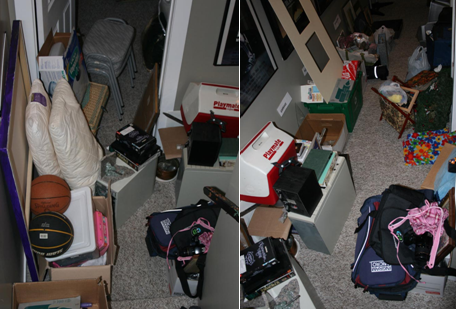 Remember those candles I was talking about?  I filled up a large zip-lock bag of tea lights.  Really, do I need all of these???  I put a couple of handfuls in a wooden jar I keep upstairs for quick access, but that's all, the rest just have to go.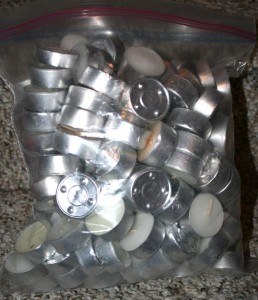 As I moved things out of the storage room I found out that I have been storing lots of empty boxes and containers.  They were everywhere.  All these organizational things sitting there just taking up space.  These are not boxes from items that I bought and just didn't deal with.  These are items that I purchased originally to help with my organization, and they took up a huge percentage of my storage room.  Well, no longer!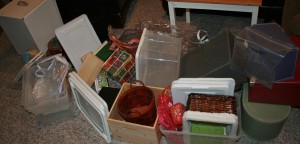 What a relief getting all that stuff out!!  I took a huge green bag out to the garbage, and my recycle bin is almost full.  The garage sale pile is huge, and I'm feeling so much better already.  It took me most of the day to do this.  I still have a pile of 'Deal With' stuff, but I went through it once, dealt with some of the issues and after a good sleep I will be ready to make some tough decisions on the remainder.
Some of the good aspects of going through stored items? Well I hung some old pictures!  The next stages of decluttering will be to take all those old electronics in for recycling, so I will probably save that for Monday.  I have a dress that needs a little mending – then I can get rid of it, and I have a bunch of cans of preserve that I'm not sure preserved well.  That will be something for today.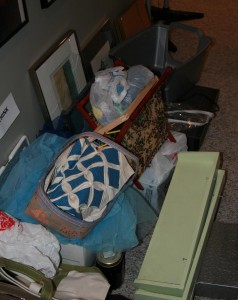 So I am left with shelf space to spare.  I can walk in the storage room and not be tripping over things, and I can take it easy today as I deal with those few little items.  Phew!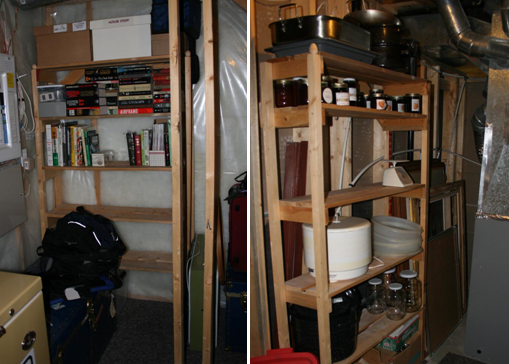 So now, how about you? Will anyone tell a tale about conquering their storage room?