Kids Rooms….A Real Declutter Challenge!
Many people set up a play area for their kids.  That is where the mass of toys go, and hopefully the bedrooms have minimal toys.  If this is the case for you, then leave the play room and you can organize that part of your home on the weekend.
Your goal is to focus in on organizing that bedroom, so in some cases it might be a very easy declutter.  I find the biggest problem with organizing kid's rooms are the closets that aren't designed very well for children.  Builders typically put in a rod and high shelf and that's it.
I've installed small shelving units that allow designated places for certain things and help organize the closet for kids.  The kids get more use out of the closet, and it doesn't become a big dumping area full of clutter.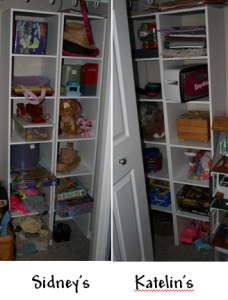 As for that high shelf, here are some organizing tips to help organize your life.
Store out of season clothes in a large bin or box.
Keep your linen closet clear by storing the sheets for the bed in the room where they get used.
Memory items get stored in a nice box up on the top shelf.  I know my girls like to browse through it every once in a while, so I keep it high so they don't start using things in everyday play.
One box of toys.  Those toys that they don't play with much that you've taken away for a time.  Introduce it back to them on a rainy day… and they will discover some new games.
In my house the kids don't have a play room.  They must keep all their toys in their bedrooms.  Keeping the number of toys at a certain level is important;  keeping them organized is key!