We pulled three green garbage bags of clothes out of our closet.  The majority of the clothing items belonged to Bill, but I was able to let go of a few pieces that I've been holding on to…but never wear (goodbye beautiful Alfred Sung pleated skirt….).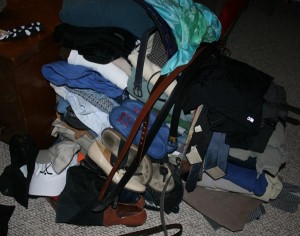 Regardless of what we got rid of Bill still has quite a bit of clothing.  Today I count 14 pairs of shorts, 12 white t-shirts, and 35 t-shirts total.  Room for improvement?  Of course, but I'm pretty satisfied with what has gone out so far.  That's the difference between deciding if it's worth pushing him some more, or being content with good enough.
Decluttering is just the first stage of living organized.  Once you've done the big cleanup then it will be easier to see what is left that needs work.