As you organize your home, your bedroom can become one of the hoarding areas, so it can be a great time to roll up your sleeves and take some big steps to start organizing your life in this challenging room.
Time to rid yourself of all those useless clothes that you aren't wearing.  Make sure you have plenty of green garbage bags so you can put the donation stuff into them straight away.  Don't forget to go through belts, accessories, and underwear.
Look around your room and discard anything that doesn't give you peace of mind or just doesn't belong, basically all the clutter.  Don't forget if you have a drawer in your night stand, they can become junk drawers very quickly.
Go through your jewelry…some of it I know you just won't wear.  I have lots of dated stuff.
Organizing Tip: I have all these necklaces that I don't wear…they are a mess trying to find or even understand what I actually have.  So this is what I did.  I took some old frames, and cardboard that fit in them.  I covered the cardboard with a nice fabric, and then went through my button jar.  I found wonderful one-of buttons that were my Grandma's.  I stitched them to the covered cardboard and hung them on an empty wall in my closet (I have this little walk-in with an empty wall).  Now not only can I see all my necklaces and choose one for an outfit, but I have the joy of seeing those pretty buttons that were either part of an old outfit of mine, or someone special to me.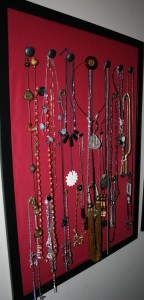 A big part of organizing your life is simplifying things.  Getting the clutter out of the way will clear your mind, and lift the oppression of having to deal with all the clutter around you.