Finish up with your 'Deal With' items today.  I'm going on a road trip to deal with things today…in fact right after I write this post!
This weekend might be a big one for you.  Your Bedroom!  Keep in mind that your bedroom is a place of rest.  Your room should be calm, uncluttered, and a place where you can relax.  The clothing is the big part, and the rest of the purge around your room should be easy.
Time to get rid of the things that don't fit or are out of date.  Stop waiting for them to be right.  Live now with a fresh look.   I'm a big believer in the show "What Not To Wear".  This area is easy for me because I do purge my closet often.  If I put something on and think "Stacey and Clinton would not like this," it goes.  (well except for my schlumping around and painting clothes).
Be brutal, keep only the clothes that you feel good in.  Why would you wear something that is uncomfortable or you are unsure of?  Ditch it and move on.  At the very least you will get rid of lots and may have to go and get some new, more recent clothing.  Same with shoes.  If they are dated, or damaged, oust them!
When I was moving I purged a whole bunch of my office work clothes.  I bagged them up and happily went to the consignment store.  Imagine my embarrassment when they didn't want them because they were too out of style.  I decided then and there that it just isn't worth keeping some of that old stuff! -KB
So if you are holding on to something 'just in case' you will fit in it later.  Either way you go, bigger or smaller it's not worth saving because it will likely be out of date.  If your body has changed, treat yourself to something new, you are worth it!
If you are in the Calgary area and participating in this purge, I am collecting used bras for 'Bras for a cause', so keep this in mind and let me know if you have any.  A dollar is donated for each bra collected as part of The Vibe's women's cancer drive.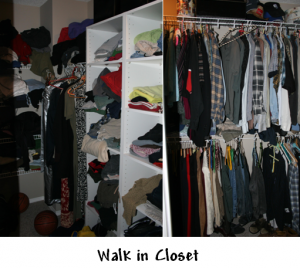 Spending the time to organize your home now will give you the time during the summer to relax and enjoy the warm weather!