When you are organizing your home, one of the most daunting rooms to start organizing can be the kitchen. Don't fret though, with these organizing tips, we can help you start to declutter your kitchen now.
The way your kitchen is set up is not necessarily how your kitchen should be set up.  Do something drastic.  Take everything off your counters.  Store them on the kitchen table for now.  Give the counters a nice scrub down (I like to use a combination of bleach and water).  Open up ALL your cupboards, and take a look.  Imagine moving certain things closer or further away from appliances, keep this in mind while you purge.
Choose one cupboard to start organizing and look through the contents.  Pull out anything you don't use, or anything that's damaged.  Look for things that you don't love.  Pull them out too.  Get them into your Donate pile.
Loving your dishes – Only keep things that you enjoy eating out of, or enjoy serving on.  For years my mom had a set of plates that she was so sick of.  Then one day she finally went out and bought new ones.  But she kept the old ones.  We still used them even thought we didn't need to.  Each birthday mom decided that she would break one of those plates.  For a couple of years her and my sister would break plates…I didn't break any.  I put them in my 'hope chest', so guess what I was eating off of when I moved out.  If you don't love it don't break it, just donate it and then it's done with. – KB

Go through each cupboard getting rid of things as you go.  Once you have a cupboard completed and you have all the right stuff in it, close the doors.  This will give you a sense of completion as you move through the kitchen.
Then you can get back to the appliances and things you keep on the counters.  ONLY STORE STUFF YOU USE OFTEN ON THE COUNTER!  I can't express this loud enough for you.  Keeping your blender on the counter so you can use it once a month is a waste of prep space.  You want to keep your counters clear of clutter.  If you have knicknacks, keep them to a minimum.  When you are cooking in your kitchen a grease film forms on things.  So fabric, or dried flowers may not be the best for a kitchen.  Keep things you can wipe down easily.
Organizing Tip:  I have a little walk-in pantry.  There is one wall that doesn't get used.  I got little shelves from Ikea, and installed them for my spices.  I hated having spices in a cupboard because I was always digging around for certain ones.  Now with the shelves, I can see them all, and I even have space to store oils, vinegars, and other seasonings.  I even invested in some tupperware spice containers, used my handy labeller, and alphabetized some of them. -KB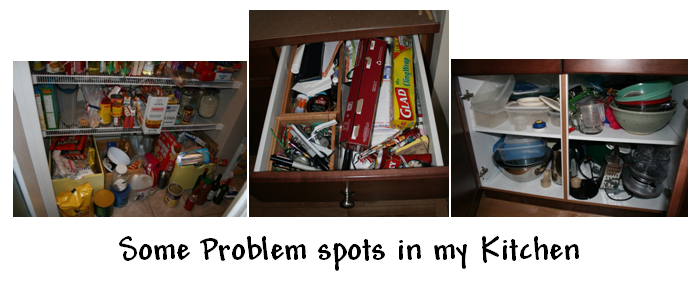 A pantry that is so full and unorganized that stuff is being placed on the floor, a junk drawer that is what it's called – a bunch of junk, and the cupboard where tupperware and plastic containers reign!