Do you want to get clutter out of your life and turn your home, apartment or even just a couple of rooms into an organized, clutter free environment? Then we can help you get started immediately!
We have taken everything from our site www.31DaysToDeclutter.com and broken it all down as a handy reference guide allowing you to get organized step by step. So not only do you get everything from the site, but we added countless extra tips and techniques that expand on each step and help teach you everything you need to know about getting organized.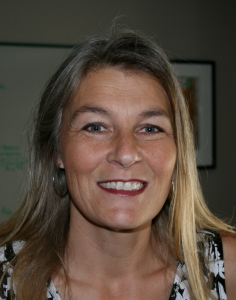 It can be overwhelming, frustrating, even angering to have to continually deal with clutter, that's why we turned the31 Days to Declutter into a simple system for you to follow. By going step by step and by learning the proper way to sort through the piles of knick knacks, paperwork, every day items, and anything in between before you jump in, the process becomes easier and far less frustrating.
Now, if you're like me, the big problem is where and how to begin. I have two pre-teen girls (who haven't quite adopted the idea of keeping the house organized, but we are getting there), I run a couple of businesses out of my home, and I love to do crafts. Together this can often represent a huge challenge to staying organized and to make sure I let go of items I don't really need before they start taking over. That's why it's important to have rules.
The Declutter Rules
These declutter rules help you clarify whether you really need to clutter up your home with your various treasures, keepsakes and can't get rid of items or whether it's simply time to let them go. Rules like:
The One Year Rule
Broken Beyond Repair Rule
The Guilt Rule
The Periodical Rule and many more!
Having these fundamental rules in place and understanding what each one represents can make not just getting organized easier, but in the long run it helps you stay organized and ultimately clutter free, which is often the hardest part. It's always easy to start something, it's sticking with it that can be the tough part which is why I love the rules so much and put them in the book.
Where To Start Decluttering
Who hasn't started decluttering their house, or even just a room, and simply become overwhelmed once they've started? This will be a thing of the past once you learn how to A) Sort B) Organize and C) Finish Up with your rooms using our system of decluttering. We show examples and real life stories of how you can turn those cluttered spaces into nicely organized rooms and if you need a whole house declutter, we show you exactly what room(s) to start with to make the process easier, faster and most importantly the least frustrating.
If you have a room you need to take care of NOW you can do that too. If you want to just work on your craft room, skip directly to day 24 in the guide, if you want kitchen organization tips and ideas, jump to days 8 and 9, it is all up to you. While going day by day gives you a way to measure your progress and is all laid out for you, the process is flexible as well.
Here's What The Guide Includes
We start by getting you into the mindset to create a clutter free environment and even include a worksheet to help you determine why you want to get organized, what you will do once you are organized and even what some of the important items in your life are that you can focus on once you have crossed clutter off your list!
By the time you are finished here, you will have even more incentive to get organized as you will clearly have some post clutter goals set.
From there we show you how to Set The Stage or get prepared to start the process. This will include tips about sorting, pre-organizing and even how to deal with items you aren't sure what to do with. This includes preparing an Action List to take notes along the way.

After this we go into detail about How to Purge and cover the complete Declutter rules in more detail along with suggestions on how to deal with items that conflict with the rules. These rules make the decisions so much easier for you when it comes to letting go of items that are really just taking space up in your home.

Finally we show you How to Attack the Clutter! This is the actual sorting (as per the rules), the organizing (what to do with the space once it is clutter free) and the disposal of everything that hasn't found a home or isn't staying. This is where you finally start to see the fruits of your labour and start turning your place into an organized home you are proud of.

"As I was reading through the book and saw how simple the steps were, it motivated me to want to start decluttering immediately!"
Brenda Yeomans, Medicine Hat, Canada
Excerpt From The Book
"The 31 Days to Declutter schedule is set up to start on the weekend, when your bigger projects should be worked on. Smaller projects are set for the weekdays with time to evaluate and make decisions in between. Your life may not work with the calendar this way, so feel free to adjust the schedule to suit your timeline. We found grouping the rooms as we have flows through the average house better. As well, leaving days to Deal With It gives you a little breathing space and can kick start you into maintaining the process."
"The calendar was the most helpful. Having it laid out exactly when to do exactly what was the most helpful It took my husband and I from being overwhelmed with our clutter to feeling in control!"
Andrea M., Eden Paririe, MN
Order Your Copy Now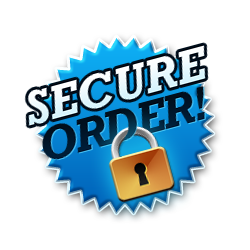 Are you excited by the prospect of having a clutter free home? Well good news, you can order the guide right now and because it is in a downloadable format, you will have it in minutes and can start discovering how to get organized immediately. There's no waiting, as soon as you order we provide you with a link to download the guide in PDF format and you'll have it available to read on your computer, your iPad, or almost any other tablet or netbook style PC in moments.

It's as simple as 1,2,3,4,5 steps once you click on the Add to Cart button down below and the popup window appears. Just follow the steps in order.
 

New Reduced Price




Order Your Copy Today!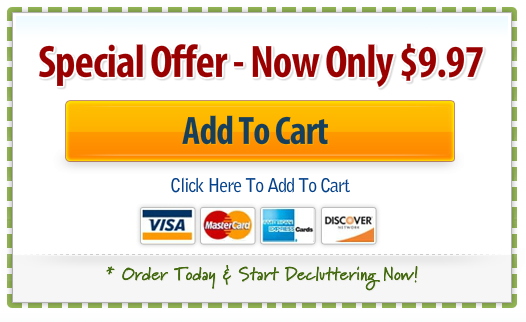 Our 100% Money Back Guarantee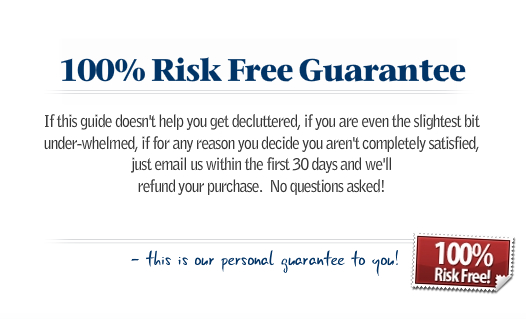 "I first started to read the blog website and got inspired to purge some of the rooms in my home, the release of this book brings even more clarity as to how to approach each room. At the start, I had doubts that this book would teach me a better way to go about purging, but the ideas are terrific.This book breaks everything down in to manageable pieces and in a easy to follow methodical manner so you do not have to do anything twice. I especially like the sections regarding the kids toys and the artwork."Tamara LaFrenz, Calgary, Canada
Thank you for visiting our site and hopefully purchasing our guide. We put almost two years worth of time and energy into creating it and making sure it would help the most people get control of their homes. The response so far has been great and we would truly appreciate your feedback as well.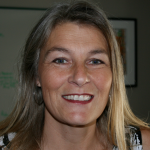 Thanks,
Karen
P.S. Ultimately the choice is yours, but if you want to take the plunge and start moving forward with decluttering your home, we hope you choose our guide to get you there and you have as much fun getting clutter free as we did putting it together! Good luck!